The workplace is where people spend the majority of their time, so when you think about decorating and designing it, you need to keep that in mind. A successful and productive workplace job requires comfortable employees willing to give their best to their work. It is also where clients come to do business deals, so it has to be presentable and reflect your work ethic and efficiency.
Designing your office and creating the balance between aesthetics and comfort can get a little overwhelming, but this is where we come in to help. Here are some tips on making your office comfortable for you and everyone who works there and appealing to potential clients.
Only Get the Items You Need
It's easy to make the mistake of getting too much furniture, thinking this will make the office look professional, but the reality is that this only creates a cluttered office and is basically a misuse of space. An elegant, practical office needs to be spacious, allowing people to move around easily and also feel more relaxed while working. Clutter is insidiously stressful, and you may not even be aware of it. Small spaces filled with unnecessary objects can create a feeling of being trapped and claustrophobic. A crowded office will also put potential clients off. It may seem like it's not a big deal, but it has a huge impact on the work environment.
Buy Comfortable Furniture
For any potential client, comfortable office furniture is one of the most important factors affecting the decision of whether or not to continue working with your company. It's an old saying, but it does hold true that an untidy workspace is the sign of an untidy mind, so from a business point of view, an elegantly appointed office is a significant part of that all-important first impression. It's also equally important to have comfortable furniture. As previously mentioned, everyone who works at the office spends most of their time there; to motivate them to be productive and enthusiastic and actually enjoy what they're doing, you must have comfortable drafting stools for them to sit on that don't cause them health issues like back pain, for example. Another thing to think of is space to put away office supplies and whatever tools people at the office need for work. Messy desks give a bad image and create discomfort to have around while working.
Decorate Your Office
Having simple, sophisticated decorative items create a professional impression and needn't break the bank. However, the decor must be included in your budget. This can include pictures to hang on the walls, clocks, and any other kind of decor that matches your color scheme and style. You need to make sure you don't overdo it with decorations, or you will have the opposite result. Instead of making the space look more pleasant, you could be doing the exact opposite if you get too much decor.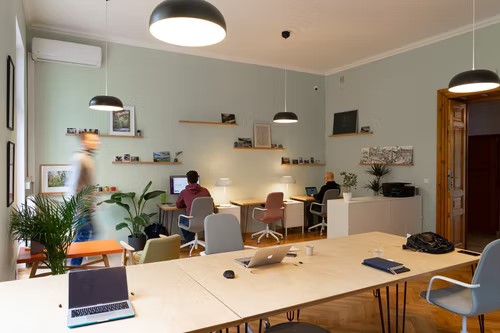 Work stress is inevitable, even if you're doing your dream job. Some of the main reasons for this stress are that there are always deadlines to follow and tasks to get done. The workspace needs to be comfortable enough to help employees get the job done efficiently and make the process much less stressful, as well as more enjoyable. As for potential clients, the office needs to reflect a positive and professional image of the company that any client needs to find to make deals with your organization and continue working with you.