Using instant messaging apps to send messages is a great way to keep in touch with people, but you might find these apps a bit annoying at times. This especially happens when you delete a message that you shouldn't have!
However, luckily there are some ways to restore Telegram chat history that we will discuss in this post today.
Needless to say, Telegram is one of the popular cloud-based instant messaging platforms for online conversations with your friends, family and colleagues.
The app has many features that allow users to send and receive messages in the most exciting way. Not to mention more, the app enables users to share files (audio, video, documents, etc.), end-to-end encrypted video calling, VoIP, and many other salient features.
However, it is a fact that many times people accidentally delete some messages from Telegram, only to realize later that those conversations were important and then, they want to recover them.
So, have you also deleted messages on Telegram and now want to recover them? If yes then, no matter whether you have deleted them accidentally or intentionally, the good news is that there are always easy and effective methods available to recover deleted Telegram chats on Android and iPhone.
How to Recover Deleted Messages in Telegram?
Before getting into the details, you first need to know that Telegram allows users to delete messages from both ends. So, there is a possibility that the receiver and sender will never be able to recover Telegram chats if the messages are deleted from both ends.
However, this does not include any groups where only the administrator is allowed to delete the chat history or a specific conversation.
Referring to the above point, if messages are deleted from both sides, there is no possible way to recover them, but luckily there is an option to avoid this situation and i.e., to make a copy of the messages you are sending.
However, let's agree on the fact that, it is not feasible to copy and backup messages all the time so, instead of doing it manually all the time, you can consider downloading the Hide Last Seen – No Blue Ticks app on your phone.
With this app, all your messages will be backed up automatically and, despite they get deleted, copies of them will remain always available on Hide Last Seen – No Blue Ticks app.
Again, it should be mentioned that the major drawback for Telegram users is that there is no backup file available for the text you send to the user as the messages are not saved as a backup file on your Android and iPhone devices.
But you need not have to worry anymore! In this guide, as we've already said, you'll learn about the methods to recover deleted Telegram messages on Android and iPhone. In fact, the below discussed are also the same strategies that you can use free of cost to recover deleted Telegram photos, videos, and files as well.
So, what are you waiting for, let's read ahead to get enlightened about them—
Method 1: Recover Deleted Telegram Messages Using Telegram Desktop version
This one is one of the basic and most effective ways that you can use to recover deleted messages in Telegram. So, let's straightaway execute the steps:
Step 1: You've to start the process of recovering deleted Telegram messages by downloading and installing the "Telegram Desktop version" on your respective computer.
Step 2: Once the Telegram Desktop app gets successfully downloaded and installed on your computer, click on it to "Open" the same.
Step 3: When the Telegram Desktop app opens, you'll see the log in screen in front of you and here you simply need to enter your Telegram account's login credentials to "login" to your account.
Step 4: As you do so, you will be redirected to the Telegram Desktop app's Dashboard. On reaching there, tap on the "Three Lines Icon" which is located at the top.
Step 5: From the menu screen that appears after that, you need to select the "Settings" option.
Step 6: Following this, you require clicking on the "Advanced" option from the list.
Step 7: Next, you need to scroll down and tap on the "Export Telegram Data" inside the Data and Storage section.
Step 8: Now, carefully select which deleted messages and chats you want to export such as Personal Chat, Bot Chats, Private Groups, Only my messages, etc.
Step 9: Once you're done selecting the appropriate options, tap on the "Export" button.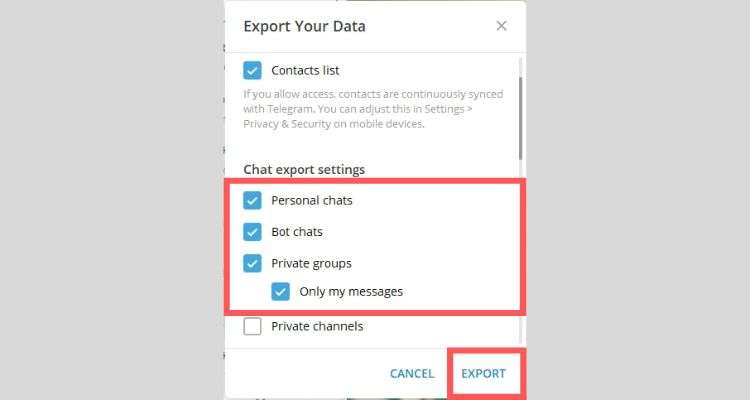 Step 10: Now that your data export request has been submitted successfully, you will see a message like this— "For security reasons, you will be able to download your data in 24 hours. We have notified all your devices about the export request to make sure it's authorized and give you time to react if it's not".
Step 11: After receiving this message, return after the time specified in the message (i.e., after 24 hours) and "Request the data again" by following the above steps.
Step 12: In addition, you will also need to confirm your request by clicking the "Allow" button.
Step 13: Once you allow it, you will receive a confirmation message like request "Accepted."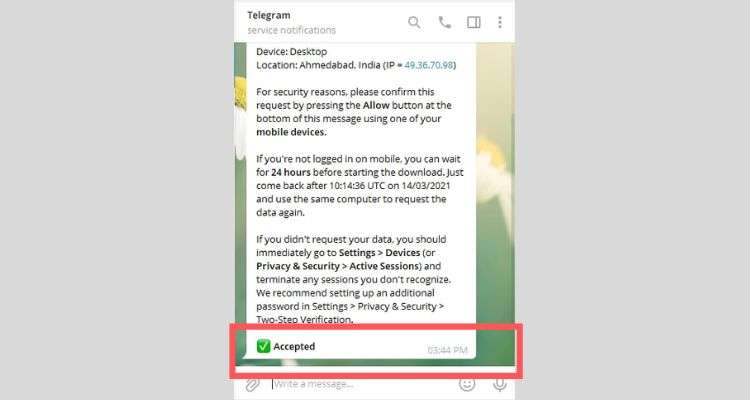 Step 14: Now after 24 hours again, you have to open the "Export Telegram Data" section and tap on the "Export" button.
Step 15: As soon as you do this, your action will start exporting your data and once it is done, tap on "Show My Data."
Step 16: In continuation, open the "export_results.html file" to finally view your deleted telegram messages.
That's it. Using the Telegram desktop version is one sure-shot way that will help you find deleted telegram messages of all time.
Method 2: Use Telegram's Undo Delete Feature to Recover Deleted Telegram Messages
Many of you might already know that Telegram offers a feature where you can undo the deletion of your messages within five seconds of the messages.
So, it's clear that using this feature, you can recover your deleted telegram messages.
However, in regards to this, it is worth noting that this will only work for your future messages, as there is a high chance that it has been more than five seconds since you last deleted a message in the app.
But, still to give you an understanding of how this method works, below are the steps you need to follow:
Step 1: Start by "finding the message" that you want to delete in the Telegram app.
Step 2: Then, swipe on that "Message."
Step 3: In doing so, a pop-up containing some options will appear on the screen.
Step 4: From those options in the prompt, tap on "Delete" to delete your selected message.
Step 5: Now, you will now see an "Undo" option and you simply need to tap this to recover the message you just deleted.
Once done, check as your message should be back even after getting deleted in the first place.
Method 3: Use a Notification Log App & Recover Deleted Telegram Messages
Whether you know it or not, a notification log app remembers and saves all the information you receive on your phone, including message notifications from the Telegram app. However, like the first method, this too will only work for future messages that you delete and then you want to recover them.
So, even knowing this, if you find this method relevant, here's you can use it:
Step 1: First of all, you have to "download a free app" like Notification History Log that keeps a log of all the notifications on your phone.
Step 2: Now, whenever you delete a Telegram message, you can "open this app" and inside it, you will see the notification for that message.
Point to be noted: It should be a message you received from someone, not a message that you sent from your side.
Method 4: Recover Deleted Telegram Messages Using Telegram's Images Folder
As per this method, you'll be able to specifically recover images that you deleted from Telegram. To be precise, even if you end up deleting messages that contain pictures from your Telegram app, you can still see your photos around the Telegram Images folder.
This is because when someone sends you a photo via Telegram, the photo gets saved in the Telegram Images folder.
So, now that you know, here's how you can recover photos using Telegram's Images folder:
Step 1: First of all, you need to use a "File manager app" to open the "Telegram folder."
Step 2: Then, hit the "Telegram Images folder" from it.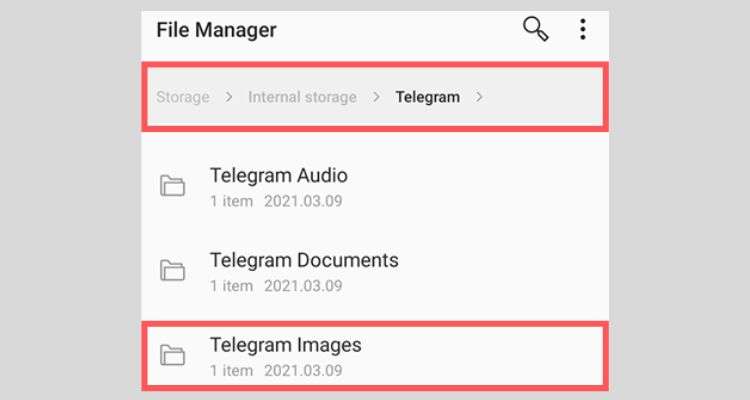 Step 3: There, you will find all of the "Images" that have been sent to you including those that get deleted.
Step 4: Now that you get your hands on the deleted pictures, you can "Copy" them to another folder if you want.
Method 5: Retrieve Deleted Messages on Telegram-Fastest Way with PhoneRescue App
When you find that you haven't made a backup available or the iTunes backup doesn't include the Telegram messages you need, then PhoneRescue for iOS could be your first choice to retrieve deleted messages on Telegram.
For those who don't know, PhoneRescue for iOS can help you if you don't want to lose any existing data on your iPhone while restoring from iTunes backup.
In regard to this, what's more to tell you is that—
It supports recovering photos, videos, music, contacts, notes, iMessage and more important files on your iPhone/iPad.
It lets you recover App Documents, Photos, Audios, Videos so that you can easily retrieve your Telegram messages and attachments.
It allows you to check iTunes/iCloud backup files and select the deleted Telegram messages that you want to recover.
This will not erase anything, all your existing data on the device will be preserved while you restore only Telegram Chat.
It offers you 3 recovery modes to recover data from iOS Device (even without backup), from iTunes Backup, from iCloud Backup.
So, in order to try this method and check what this 100% safe iOS data recovery tool can do for you, follow these below-given steps:
Step 1: To retrieve deleted messages on telegram-fastest way, "Download PhoneRescue app for iOS" absolutely free.
Step 2: Once downloaded, "Install it" on your computer first and then, you need to connect your respective iOS device to the computer.
Step 3: Next, you've to choose the "Recover from iOS device" option.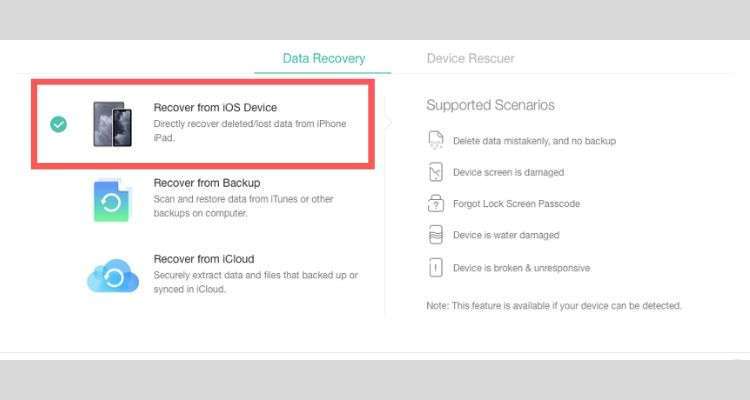 Step 4: After that, on this interface, uncheck the "Select All" option.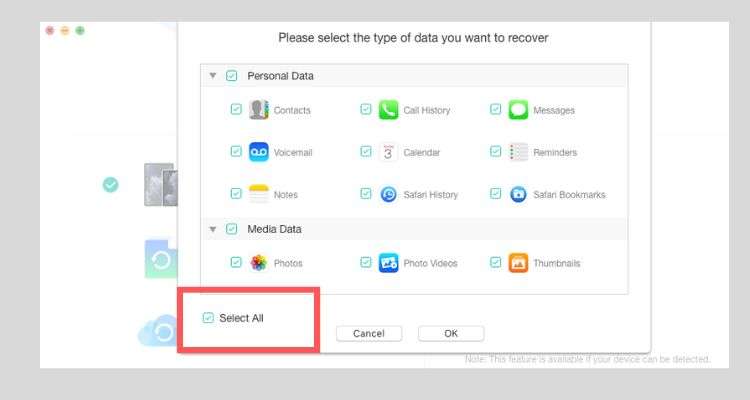 Step 5: In continuation to that, find app date as well as tick the "Telegram" category.
Step 6: Now, click on "OK" to scan the deleted messages.
Step 7: Once this is done, you need to "Preview" and select the "Messages" you want to recover.
Step 8: In the end, click on the "To Device" button in order to put selected data back to your iPhone directly. Alternatively, click the "To Computer" button to save them on your computer for a backup.
Method 6: Use the Android Cache Folder to Recover Deleted Telegram Messages
If you want to recover deleted telegram messages on Android, it is worth checking Telegram's cache folder to see if your deleted contents are available there.
This is pretty easy to do and you do not need a third-party app.
That being said, you can follow the steps below to use the Android cache folder for restoring deleted Telegram messages:
Step 1: First of all you've to open the "File Manager App" on your Android device.
Step 2: Thereafter, navigate and access the following folders: "Android > data > org.telegram.messenger > cache."
Step 3: Now, in the cache folder, you should see the contents of Telegram from which you can "Copy the files" that you want in other folders on your phone.
Method 7: Restore a Backup on Android | iPhone to Recover Deleted Telegram Messages
Last but not least, if you have made a full backup of your Android device before deleting your Telegram messages, you can fortunately restore that backup and regain access to your deleted Telegram messages.
However, before trying this method, note that when you restore a backup, this will erase your device. So, if you're ready to take the risk, here are separately mentioned how you can restore a backup on Android & iPhone.
On Android
In this regard, it should be mentioned that while there are many ways to backup an Android device, there is no clear and direct step on how you can do this restoration process.
Still, let's tell you that in most cases, what you simply need to do is:
Step 1: Open the "App or Tool" that you used to back up your phone.
Step 2: Then, choose the "Restore" option.
Step 3: After that select the "Backup" that contains your Telegram messages.
Step 4: Lastly, just hit the "Restore" button and in doing so, all your deleted Telegram messages should be restored to your phone.
On iOS
Unlike Android, restoring a backup on iOS is easy and uncomplicated because iOS users mostly back up their iPhone with tools like iCloud and iTunes/Finder.
So, if you made a backup of your iPhone using one of these tools before getting your Telegram messages deleted, you might find your messages in these backups.
That being said, you can simply follow the below steps to restore iCloud backup on your iOS device:
Step 1: Begin by opening the "Settings app" on your respective iPhone.
Step 2: Then, inside settings, you've to tap on "General."
Step 3: Next, tap on "Reset" followed by "Erase All Content and Settings."
Step 4: After doing this, you need to start setting up your device from scratch.
Step 5: Once this is done, tap on the "Restore from iCloud Backup" option available on the Apps & Data screen.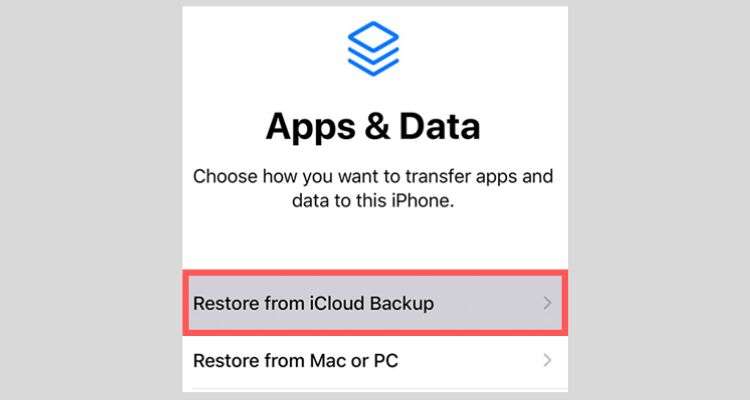 Step 6: In the end, make sure to select your "Backup" to restore it.
Similarly, in order to restore an iTunes backup, you require following these below given steps:
Point to be noted: The steps should be similar for Finder as well.
Step 1: Use a USB cable and "connect your iOS device to your computer."
Step 2: Once it's done, launch "iTunes" and click on your respective "Device" in the app.
Step 3: Then, select the "Summary" option which is available on the left hand side.
Step 4: After that to restore iTunes backup on your phone, all you need to do is click on the "Restore Backup" option located on the right pane.
Step 5: Now, just "Wait for the restoration process to finish" and then, you should be all set to access your deleted telegram messages.
Alternate Methods to Recover Deleted Messages in Telegram
Apart from the aforementioned ones, there are also 3 alternative ways that can help users to recover deleted messages in the Telegram app. Wonder what they are? No more! Just look at below as we've discussed them for you—
Way 1: Recover Telegram Messages with iStaunch
To recover deleted Telegram messages using this way, you have to first go to Telegram Message Recovery by iStack Tool. After that you need to enter your mobile number and just tap on the recovery message button, that's it!
Now, iStack tool will automatically retrieve deleted messages on Telegram including your photos and videos.
Way 2: Restore Telegram Chat History
Next, there is a great feature on Telegram itself that helps you recover deleted messages and that is that the app gives you the opportunity to hit the 'undo' button after deleting the chat. However, it is to be mentioned that this option is only available for the next 5 seconds after deleting the conversation.
But it is what it is! As of now, the only option using which Telegram lets you recover deleted chats is the 'Undo' button. In this regard, note that this option is part of the Telegram update that was launched recently.
Also, you should know that every time you delete a conversation, you will get a confirmation message asking if you want to delete the chat.
So, when you receive this, make sure that Telegram allows you to delete a chat not only from one end but from both ends. That's because if you've deleted it from your inbox, the messages won't be removed from the other party's inbox and they may forward the conversation or give you a screenshot of the message, you never know!
Way 3: Recover Telegram Chat Using File Manager
Last but not least, if you have a file manager in your phone, you can easily view deleted messages which were in image, video and other formats. This is because, depending on the way you have configured the data, there is always a chance that the content you receive from a third party will be stored in your respective device's internal storage.
Conclusion
That's all. It doesn't matter whether you need to recover conversations to proofread or you just want to save chats for future reference, these were some of the methods that will help you recover deleted Telegram conversations in the easiest and fastest possible way. So, whenever needed, you can use these methods as they will help you to recover any deleted Telegram file/message easily and effortlessly.