Google Chrome is one of the most advanced cross-platform web browsers developed by the tech giant Google itself in 2008. It is also considered the primary search engine by the majority.
Since its initial release, Chrome has updated itself a lot as it can now open most of the file formats itself, for which we used to have third-party apps, for example, documents, audios, videos, and more.
Not only these plugin software programs, but chrome also has much more to change in terms of its appearance like you can change the theme of Chrome as per your choice.
But, the most important feature put forward by Chrome is that you can choose the Chrome Homepage as per your requirement.
Q: What is Google Homepage?

A: Google Chrome lets you customize it to open any page for the homepage or startup page. They are not the same unless you decide and set them to be the same. So, to briefly explain—the Google homepage is different from the startup page in the sense that the startup page appears first when you launch Chrome, whereas the Google homepage site is associated with the house icon in the top toolbar, which you can access when you click 'Home.'
Coming back to the main point that what does it mean to set the homepage on Google Chrome, so let us understand it like this—
If you use your browser to open a particular page, and you want it to automatically open that particular page for you whenever you open your browser then, you can do this very easily on any device or any operating system via setting the same as your Chrome homepage.
And, the good news is that learning to set up the homepage in Google Chrome is simple and very worthwhile as already said; doing so gives you quick access to the website you visit most often.
In this regard do note that the website you set as the homepage could be your favorite social media site, favorite news outlet, your email inbox, or any other important site that you need to access every day for work.
Basically, whatever website you decide to choose as your homepage, Google Chrome makes the process so simple that after setting up the homepage, an icon will appear in your browser, and clicking on it will take you to that page immediately.
So, like many other Chrome users, if you also want to know how to make a homepage on Google Chrome or how to set a homepage on Google Chrome, then this article will help you understand it.
That said, below you will find clearly mentioned steps guiding you through the process of setting up a homepage on Google Chrome.
[Note: Once you learn how to set up a website as your Google Chrome homepage, turning it into an alternate website can be done by simply performing the steps again.]

Instructions to Set a Homepage in Google Chrome on Windows, macOS, Linux & Chrome OS
First of all let us understand how you can set the homepage in Chrome on the most famous operating systems for PC i.e, Microsoft Windows, macOS, Linux, and Chrome OS—
STEP 1: First of all, open a fresh Chrome browser window on your PC.
STEP 2: Then, click on the three-dot button used for the "Menu" option which is present in the top right corner of the default page of Chrome.
STEP 3: As you do so, the Google Chrome menu will expand and from the menu, select the 'Settings' option to open the setting page of your Chrome browser. This contains almost every setting in different sections.
STEP 4: On the settings page, look at the right you'll see a section of sub-categories. From them, select the 'Appearance' section to open to set the homepage for Chrome browser.
STEP 5: In that, check if 'Show Home Button' is turned on. If not, toggle it blue to enable the Homepage button that appears in your browser.
STEP 6: Now that you have turned on the homepage functionality, you can click on the 'New Tab Page' which opens a box where you need to type or copy-paste the link of the website you want to make your Google Chrome homepage.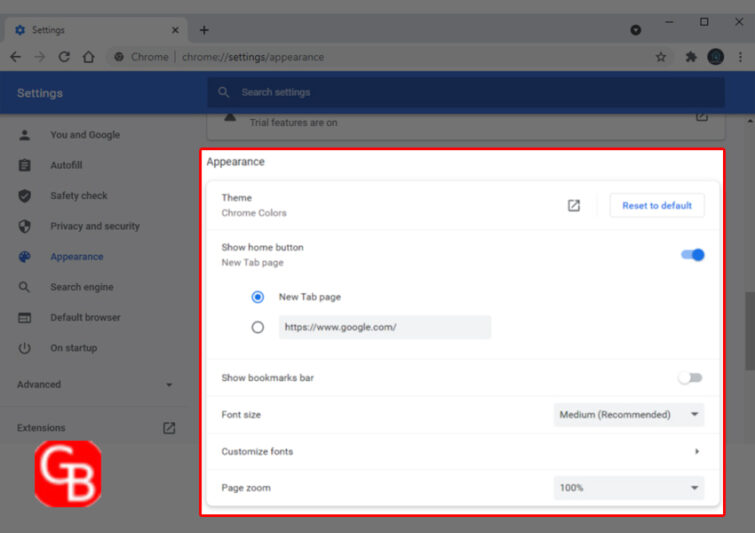 [Note: Though various users who use Chrome do not want the default page as their homepage and instead they search how to make Google my homepage on chrome that shows shortcuts to your most frequently visited sites. So, if you also want to set Google as your Homepage on Chrome, then you just have to paste this URL www.google.com/ as mentioned in the above-given step to set it as your homepage.

In this respect, let us also mention that if you choose to use other browsers in the future then, regardless of the browser you use such as Firefox, Safari, Internet Explorer; you can easily set Google as your homepage in any of these browsers as well.]
STEP 7: Once you have entered the name of the website that you want to set as your homepage, click on the 'Apply' button to save all the changes you have made.
Now, quickly restart your Chrome and after this, you will see that your Google Chrome homepage has been successfully set up.
Instructions to Set a Homepage in Google Chrome on Android & iOS
The users of Google Chrome are not limited to the PC only, but as the mobile operating system is ruling the world, the users of Google Chrome are also increasing at the same pace. And, as you all know, the most common operating systems on mobile phones are Android and iOS.
On one hand, Google-owned Android has Chrome as the default browser, but various users using iPhone also choose Google Chrome as it is more user-friendly. So, if you are also a chrome user who uses it on mobile, and you want to set up a Chrome homepage then, here's how you can do this on your respective Android or iPhone using the following steps—
STEP 1: Firstly, open the Google Chrome app on your device available usually at the home screen or in the apps' section of your phone.
STEP 2: Then, on the default page of Chrome app, select the 'Menu' icon present at the upper right corner in the form of three dots.
STEP 3: As doing so, expand the menu options, you've to choose 'Settings' of Chrome to open.
STEP 4: Now, what you need to do is look for the 'Homepage' option inside the settings and when you're able to locate it, just tap on it.
STEP 5: On the same, check if the homepage button is on and if not then turn it on which opens the 'New homepage tab' box.
STEP 6: In that, either type or paste the URL of the website which you want to set your homepage on Google Chrome.
STEP 7: Once done, tap on 'Apply' to save these changes.
After this, make sure to restart your Chrome browser to see your desired page as your Chrome homepage.
Now, many times you feel that you want to set more than two pages as your homepage, right? So, keeping that in mind, let us tell you that Chrome has a solution for this that helps you to set multiple home pages as Chrome has updated this feature to its new version.
Instructions to Set up Multiple Homepages in Google Chrome
As discussed, if you are in the habits of using multiple sites and thus, want to have different options for the homepage when starting Chrome then, here are the steps to follow to add more than one page to your chrome homepage—
STEP 1: After you've set a particular homepage on Chrome using the above set of instructions, type the address of the website which you want to choose as your secondary homepage in the URL address bar.
STEP 2: Once it is open, click on the 'Three dotted menu' icon present in the upper right corner of the screen of your respective device.
STEP 3: By doing so, the menu options will appear on the screen and in the menu options only look for the 'Add to Home Screen' option.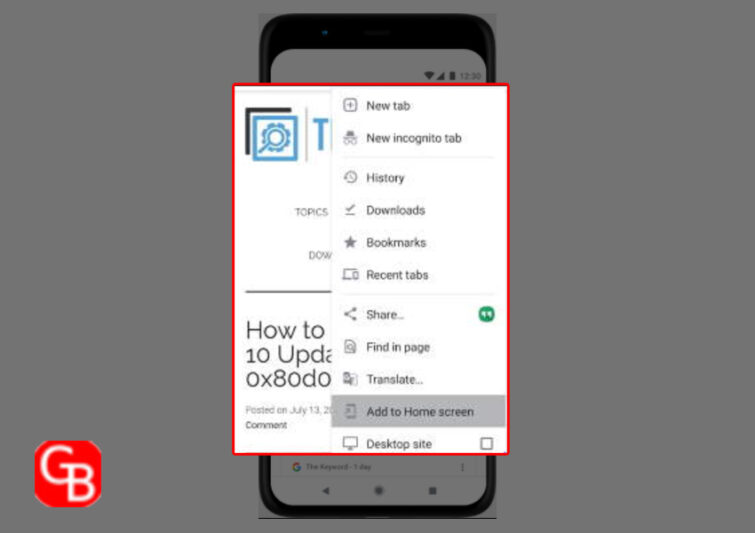 STEP 4: After that, you can modify the title of the website as per your comfort and when you're done with that, click on the 'Add' button.
STEP 5: Now, click on the 'Add' option once again on the next screen to confirm and by doing this a shortcut icon of your desired website will be added to the Home screen of your Chrome browser that will take you directly to your page with one click.
However, to do this, there's an alternate way also. So, let's have a look at the instructions for the same also—
STEP 1: Firstly in different Chrome tabs open all the web pages that you want to set as your homepages.
STEP 2: After doing that, click on the 'Chrome Menu' button and from the options that appear, choose 'Settings' to open as described in the above section.
STEP 3: Inside the Settings window, select 'On Start-up' from the list of subcategories options on the left side of the screen.
STEP 4: Following that, what you've to do is choose the 'Open a specific page or set of pages' option.
STEP 5: Next, click the 'Use Current Pages' option to open all the pages you currently have displayed in a Chrome tab and want them to appear simultaneously every time you start the browser.
[Note: Another way to do this is to click 'Add new page,' and then, type or copy-paste the URL of the Website or page you want to set as the homepage on your Chrome browser.]

So, this is how repeating the above set of instructions you can add as many tabs/websites to the Home screen of your Chrome browser for one click to open.
Once done, make sure to restart your Chrome browser, and then, you'll see that all your favorite web pages will automatically open in new tabs!
That's all! Hope you have now learned how to set single or multiple homepages in your Chrome browser on Windows, macOS, Linux, and Chrome OS as well as on Android and iOS.