AOL in other words, AOL Inc. is an American web portal and it is originally known as America Online. Aol mainly provides online service and it is based in New York City. It is a brand marketed by Yahoo Inc. It was founded by Steve Case, Marc Sheriff, Jim Kimsey, and William von Meister on 24th May 1985. In this post, the readers will know more about AOL services.
Features of AOL mail:
It has the following features available:
1. Provides strong virus protection.
2. Unlimited mailbox size.
3. 25 MB email attachment limit.
4. Link to other email accounts from other service providers like Gmail and Hotmail.
5. Supported protocols are POP3, SMTP, and IMAP.
6. While working with the email account ads are displayed.
7. Provides spam protection.
All the Possible ways to Recover/Reset/Change AOL Mail Password
Now regarding the use of AOL accounts the users are facing several issues related to AOL passwords. Followings are some of the possible ways to recover lost AOL password:
How to Recover or Change AOL Password?
By following the below-stated steps the users can recover or change AOL mail password in case the user forgot AOL password:
User can easily change their AOL password by using the "Account Security" page.
There the user can see the "Forget Password?" option if they forgot their AOL password.
The user can easily protect their account by setting a strong and unique AOL mail password.
A strong and unique AOL mail password always helps to secure the user's password. It always ensures safety. However, in some cases, the strong and unique password fails to provide ultimate safety and security. In this situation frequently changing the user's password can resolve the issue.
On the other hand, when hackers attack a user's account, the only left option is to recover the AOL password. Fortunately, there is a simple way to recover the AOL mail password of the user.
How to Change the AOL Password in Case the User Knows the Current Password?
By following the below-stated steps the users can easily change their AOL password when they already know their current password.
Visit the AOL login page or https://www.aol.com by opening any browser. Then click on the login/join.
Next, to open your account page, click the profile picture. The profile picture is on the top-right corner of the page.
Click on "Account Security" from the navigation pane.
Then, click on "Change Password"
Next, type in the new password and then enter it again to confirm the password. Now click on "Show Password" and finally click on "Continue".
In this way, your new password will be saved
Now the question is how to reset the AOL mail password when the user no longer remembers the current password?
In this situation, by following below stated steps the user can do their AOL password reset:
How to Reset Forgotten AOL Password?
Users have to open the https://www.aol.com page. Next, open the AOL login page from there. It is at the top-right corner of the AOL login page.
After entering the next page click on "Forget Password?"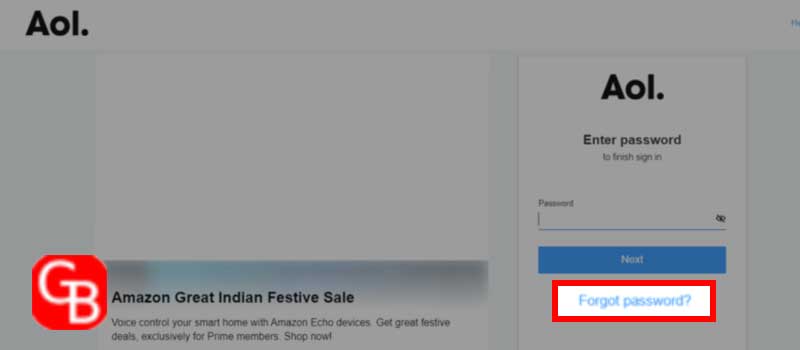 Then there will be online instructions to reset your AOL mail password.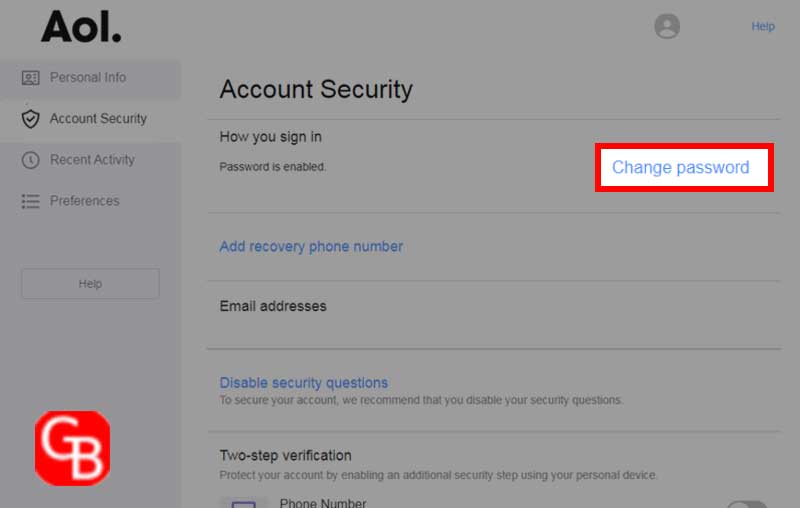 Users just need to follow them. Now the following procedure will depend on the password the users have set for their AOL account. Next, they will receive a verification code on their email address or phone number. Now the users will be able to create a new password for their AOL account after entering the code.
How to Recover a Password by Using Browser's Auto-fill Feature?
Each and every modern browser is associated with an auto-fill feature. This feature will allow the users to save the login information. Especially the username and password are saved when you first sign in to your email account. A pop-up window opens up and it asks the users to save their account credentials for future convenience.
Therefore, if the users already used their AOL email in the recent past. Also if they ever used their auto-fill feature of the browser, then they can use it to recover their AOL password. Because it will be filled automatically. Therefore, to recover AOL mail password:
Click on the "Text box" for the password
Select the "display password"
In this way, the users can get their passwords.
Besides, the user also can make use of the browser's help site from the browser's settings. In this way, they can check where the password is stored. Even the users can get detailed information about how to enable the auto-fill feature from the help section. Even thus they can activate it for storing all of their login passwords. This auto-fill procedure is the same for almost every browser.
There are some more frequently asked questions and their answers to clear every possible doubt of users related to login activity.
FAQ's
Q.1. How to remember the AOL login password?
Normal human tendency is to forget important details especially email passwords. However, as it is very essential therefore we need to either remember or recover them. In the case of remembering, it is related to the memory issue. Therefore, there is no practical way to deal with it at once. However, there are some ways to avoid the effect of poor memory like storing our important details in a safe place. Of course, handwritten notes are not the exact solution. Instead, the recommendation is to make a habit of password manager use. Because password manager safely and securely stores all of our web passwords.
Moreover, the AOL email password can't be stored more safely without it. There is plenty of options present. Different third parties offer programs to store your login details. Some of them are free while the rest are paid. You just need to make sure about the tool you are using. You need to check whether the tool is fully encrypted or not. It is necessary because it helps to avoid any sort of unauthorized access.
Q.2. How to create a secure password for your AOL Account?
To create a secure password for your AOL account, one should follow below stated steps:
Never ever use your obvious information like Date of birth, 12345, name of your pet, your name or surname.
It is always better to create a more long and complex password for better security.
Even you should not use very closely placed letters on the keyboard.
Try to create a unique password and never ever repeat it if it is already used anywhere else.
Also, keep changing your AOL password regularly
In this way, you can create a secure password for your AOL account.